RV Lighting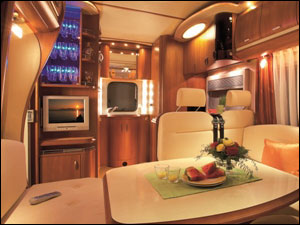 Lighting for your home is often simple. When you have hard wiring, and whether or not you have a budget, it's easy to get lighting installed. Whether it's conventional lighting that's been used for several years or LED lighting that has led the way in technology for this decade, your options are wide open, and your space usually is too. However, if you own an RV, then the situation changes a little bit. First of all, you don't have the space that you have in a normal home. RV lighting needs to take up as little space as possible to maximize your inside room. Additionally, you'll burn through both gas and battery power on your RV if you don't have low power consumption, so it becomes necessary to use as little power as possible.
Save Power
LED lighting uses about 20% of the power that normal lighting like incandescent and halogen bulbs use. Additionally, they run cool to the touch, so if you're trying to keep your RV cool, you won't waste additional energy with air conditioning. Saving power is going to save you both gas and battery life, which are necessary to not only run your RV lighting, but other components in the RV as well.
Save Space
If you've never seen an actual LED light, it's about the size of a pea. It's roughly 96% smaller than a regular light bulb. What that means is that the casing for the lighting is going to be that much smaller as well. The end result can actually be several cubic feet worth of space in your RV. RV lighting doesn't need to be insanely bright, especially since you work in such a small area, so in most cases, only one or two LED bulbs will suffice for most lighting units in  your vehicle.
Customize Away
In most cases, RV lighting is very simple and plain. If you're looking to deck out your mobile home a little bit more, LED lighting is going to give you the versatility that you need. The small bulb sizes make it easy to adjust casing sizes and shapes, as well as give you the option of where to mount your lightings. So if you decide that you can better light areas of your RV, LED lighting would be the way to go, since you know you won't be losing precious space due to large bulbs or lamp covers.