Marine LED Lighting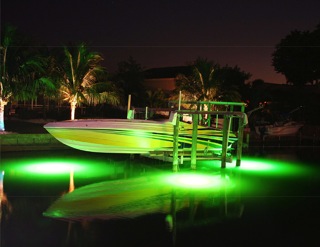 LED lighting has finally made its evolution in today's technology. For decades, we were faced with the inability to have any other color LED than red. Now, we have an endless amount of colors available to us, simply by merging a variety of colors together. Additionally, the technology has come far enough that people have begun to finally use LED lighting in homes and offices. One area of our lives that people aren't using LED lighting for just yet, however, is for our water vessels. While the market has begun to come around, people have yet to realize the true power of marine LED lighting, and how it can actually help out more than regular marine lighting that's been used in the past.
Marine LED Lighting is Safer
One of the biggest dangers posed by traditional marine lighting is that both incandescent and halogen bulbs run extremely hot. This heat can cause one of the greatest dangers on any vessel, a fire. Marine LED lighting runs extremely cool, to the touch in fact. This can decrease your dangers of a fire onboard your vessel by more than 90%. While you may not have thought about that fact before, and you've never had issues with fire, it's much better to play it safe than sorry and make the investment to switch. LED lighting on marine vessels saves lives, and can save your boat or ship as well.
Marine LED Lighting is Cheaper
LED lights last a long time. In fact, some LEDs last as long as 12-20 years before they need to be replaced. Provided that you care for your marine LED lighting once installed, you're going to have a long happy life of never having to replace a bulb during the life of your vessel. This leads to saving money on the purchase of new bulbs, which could end up running you hundreds of dollars for as long as you own the vessel.
Marine LED Lighting Uses Less Energy
Everything that you utilize on your boat that requires energy will always use gasoline. It's actually a big myth that power outside of the motor only uses battery life. Since marine LED lighting will use less battery power, it will in turn use less gasoline. With the price of gasoline around the world soaring to record highs, it only makes sense that you take the time to install marine LED lighting on your vessel and save yourself hundreds of dollars a year on gasoline.