Miami Florida – July 18, 2023 – Lumiron, a pioneer in innovative lighting solutions, proudly unveils its latest cutting-edge product, the Dakota Custom LED Light Panel. This revolutionary light source sets new standards with its slim design, rigid, even illumination, and unmatched customization options. The Dakota LED Light Panel's innovative technology opens up endless possibilities for a wide range of applications, particularly for backlit LED panels featuring onyx, quartz, and other translucent stones. Targeting markets such as Architecture & Design, Onyx Translucent Stones, Retail, Signage, and Display & Fixture, Dakota is poised to transform the world of lighting.
Slim, Versatile, and Powerful
The Dakota LED Light Panel is designed to illuminate stone applications with stunning precision. Its ultra-thin profile, ranging from ¼" to ¾" thickness, ensures accessibility in all areas, offering unmatched versatility for architects and designers. The panels operate on 24VDC systems, complete with a power supply, DC connectors, and adaptors, making installation a breeze. The light panels are available in a diverse array of color temperatures, including 3000 K, 4500 K, 6500 K, RGB, RGBW, CCT 3000K-6000K, and custom colors, providing endless opportunities for creative expression.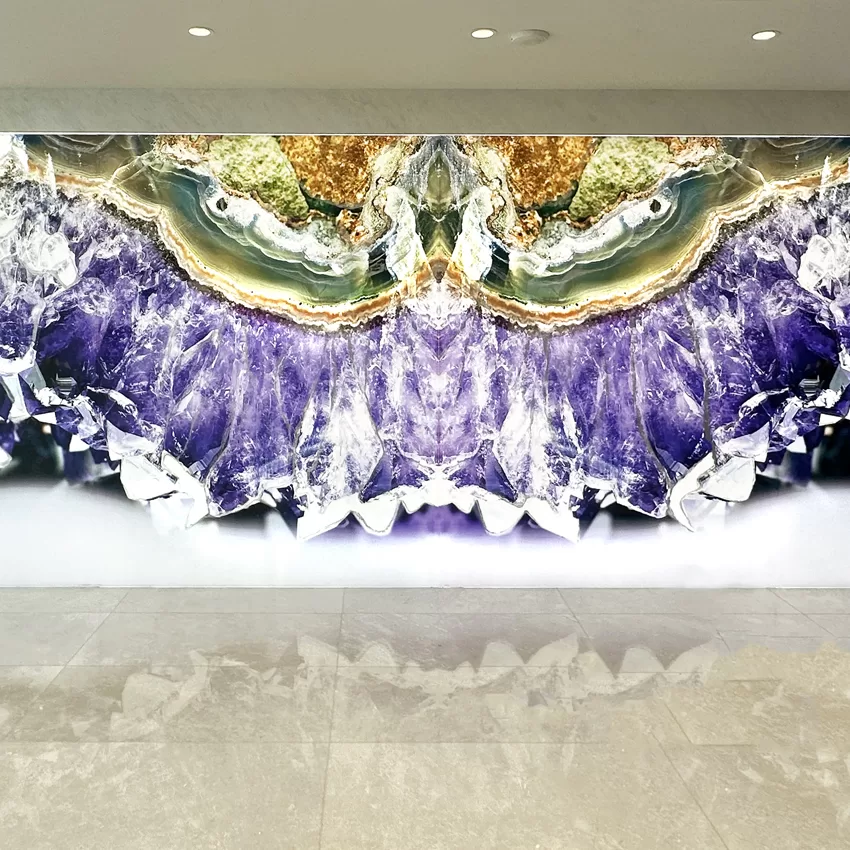 Unbeatable Benefits
Low Profile Design: The sleek design of the Dakota LED Light Panel seamlessly integrates with any space, adding a touch of sophistication to any environment.
Dimmable: Dakota panels offer multiple fully dimmable output level options, allowing users to set the desired ambiance effortlessly.
Low Power Consumption: Lumiron's commitment to sustainability is evident in the low energy consumption of the Dakota LED Light Panel, offering an eco-friendly lighting solution.
Extended Lifespan: With a staggering lifespan of up to 70,000 hours, Dakota promises long-lasting and reliable illumination for years to come.
3-Year Warranty: Customers can trust in the quality and durability of the Dakota LED Light Panel, backed by a 3-year warranty for added peace of mind.
Made in the USA: Lumiron takes pride in manufacturing all Dakota LED Light Panels in the United States, ensuring top-notch quality and adherence to industry standards.
Easy Installation and Low Maintenance: Dakota panels' user-friendly installation process and low maintenance requirements streamline lighting projects.
Customization: The Dakota LED Light Panel is tailored to each client's unique project requirements, allowing for custom lengths and unique color temperatures.
Waterproof: The Dakota LED Light Panel can be manufactured to be IP65 or IP67 for waterproof applications.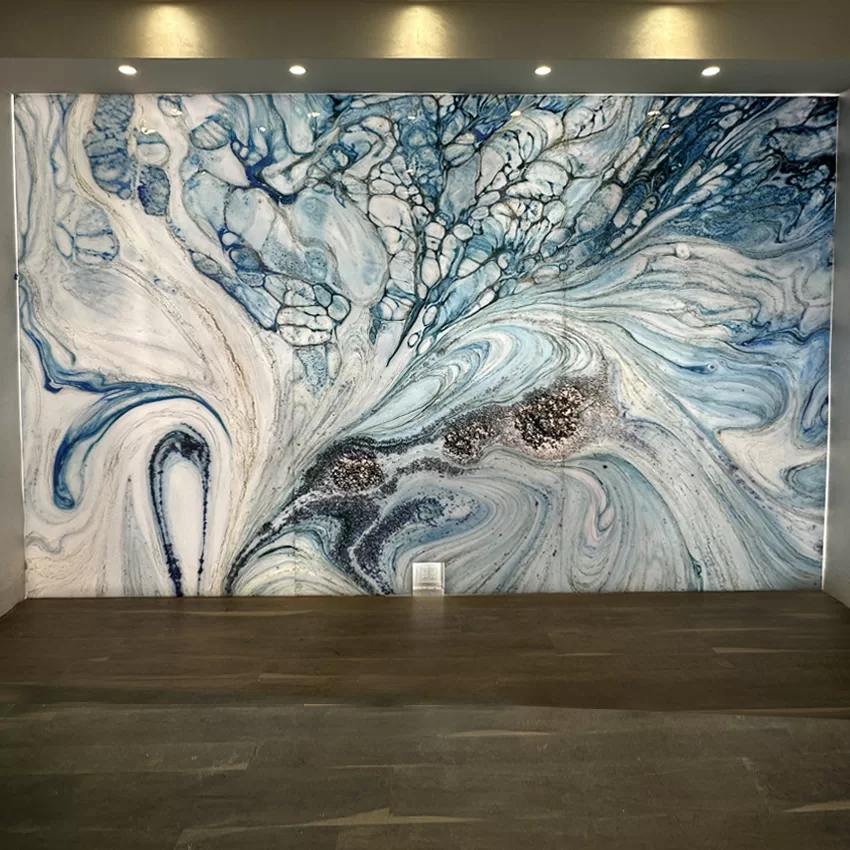 Brighten Up Any Space
Specifically engineered for backlit stone applications, Dakota LED Light Panels produce bright, uniform illumination, breathing life into architectural features, illuminated graphics, and signage. The panels' design enables LEDs to be embedded along 1, 2, 3, or all 4 edges of the acrylic, achieving the perfect light level required for each backlit application.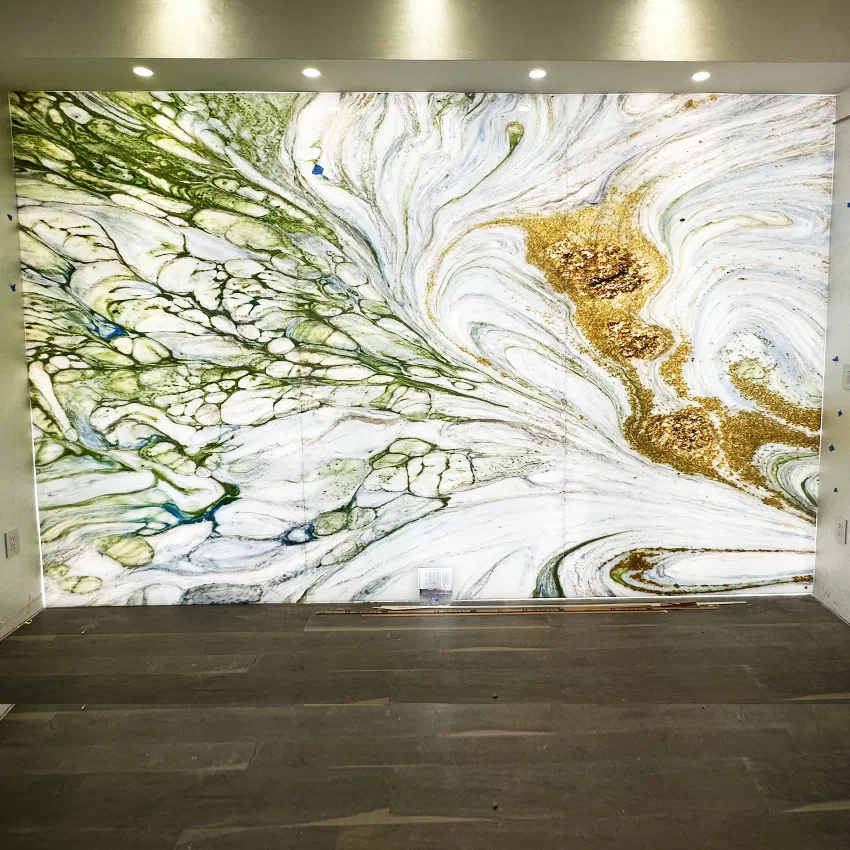 Lumiron's Commitment to Excellence
Every Dakota LED Light Panel is meticulously fabricated to meet precise dimensions, shape, light level, and Kelvin temperature or RGB output as required by each client. Lumiron's stringent quality control measures ensure that the panels surpass expectations and deliver exceptional performance. Our knowledgeable design consultants and technicians guide clients through the entire project, addressing functional requirements and achieving aesthetic lighting objectives.
Technical Specifications
Dimensions: 6″ – 96″ (152.4 mm – 2438.4 mm) (Custom lengths available)
Colors: Warm White, Neutral White, Cool White, RGB, RGBW
Wattage/Foot: 3 or 4.5 Watts
Lumens/Foot: T2 (259) and T4 (447)
Input Voltage: 24VDC
View Angle: 120 degrees
LED Spacing: 0.5″ (12.7 mm) center to center
LED Type: T2 (3528), T4 (2835)
IP Rating: Indoor Standard IP20 – Outdoor IP67 EPX Series
CRI: 90
Lens: Clear acrylic, semi-diffused, or diffused lens standard
Lens Type: Flat
Housing: Anodized clear aluminum extrusion (Custom colors available: gold, black, etc.)
Mounting: Standard closet rod mounting brackets
Leads: 2-foot 18g 2 cond (custom wire lengths available)
See Dakota in Action
One notable example of Dakota's capabilities is its use in backlit artwork by acclaimed artist Alex Turco. By utilizing Dakota LED Light Panels, Lumiron successfully illuminated Turco's frosted acrylic art pieces, resulting in even and vibrant illumination, and enriching the art's aesthetics.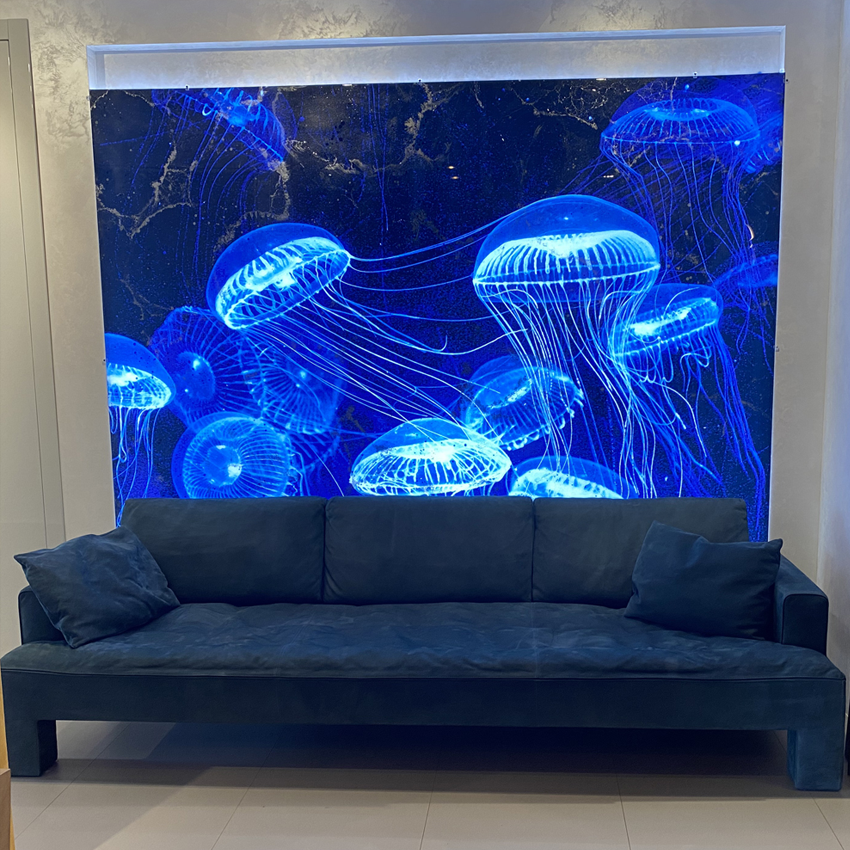 Illuminating Quartzite Island Countertops
Recently, Lumiron's Dakota LED Light Panels was employed to illuminate a large Cristallo quartzite island countertop in a Palm Beach Gardens, Florida home. The Dakota panels enhanced the natural beauty of the stone, providing brilliant illumination while accentuating the countertop's elegant design.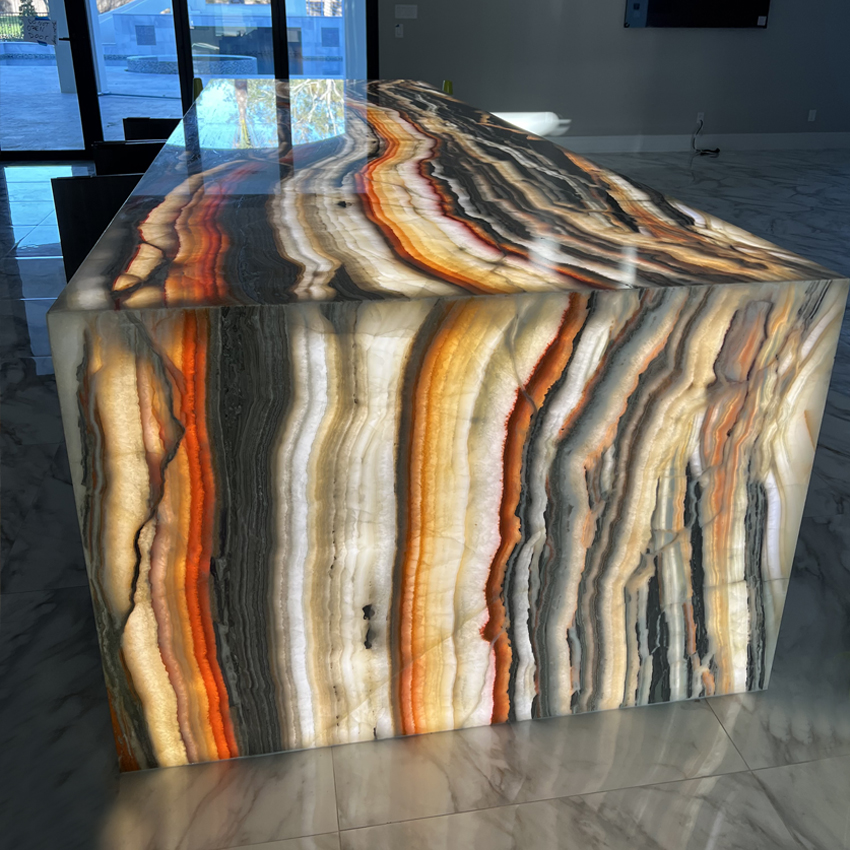 Discover the Dakota Difference
Dakota Custom LED Light Panel from Lumiron is revolutionizing the lighting industry. With its unparalleled slim design, even illumination, and exceptional customization options, Dakota is the go-to lighting solution for various applications. Crafted with precision in the USA, Dakota offers longevity, energy efficiency, and an unbeatable 3-year warranty. Explore the endless possibilities of Dakota and brighten up your space with Lumiron's innovative lighting solutions.
For more information about Dakota and Lumiron's complete range of lighting solutions, please visit Lumiron's website at lumiron.com or contact our customer support team at sales@lumiron.com or 305 652 2599.
About Lumiron
Lumiron is a renowned industry leader specializing in cutting-edge LED lighting solutions. With an unwavering commitment to quality, innovation, and customer satisfaction, Lumiron continues to set new standards in the lighting industry. All Lumiron products are proudly made in the USA, adhering to the highest quality and environmental standards.
Join the LED lighting revolution with Lumiron's Dakota Custom LED Light Panel today.