How to illuminate a quartzite island countertop?
Lumiron's LED Light Panel was recently used to illuminate a large Cristallo quartzite island countertop in a Palm Beach Gardens, Florida home. Three 6500K LED Panels, illuminate the stone, enhancing its natural beauty. Quartzite is becoming increasingly popular in bath and kitchen design because of its high density and lower price point relative to marble.
Our LED Light Panel is ultra slender at just 1/4″ in-depth and is ideal for illuminating natural stone and similar materials. It can also be used as an indirect illumination source in architectural design. Is available in three different light temperatures, 3000K warm white, 4500K neutral white, and 6500K daylight to suit a wide variety of color palettes.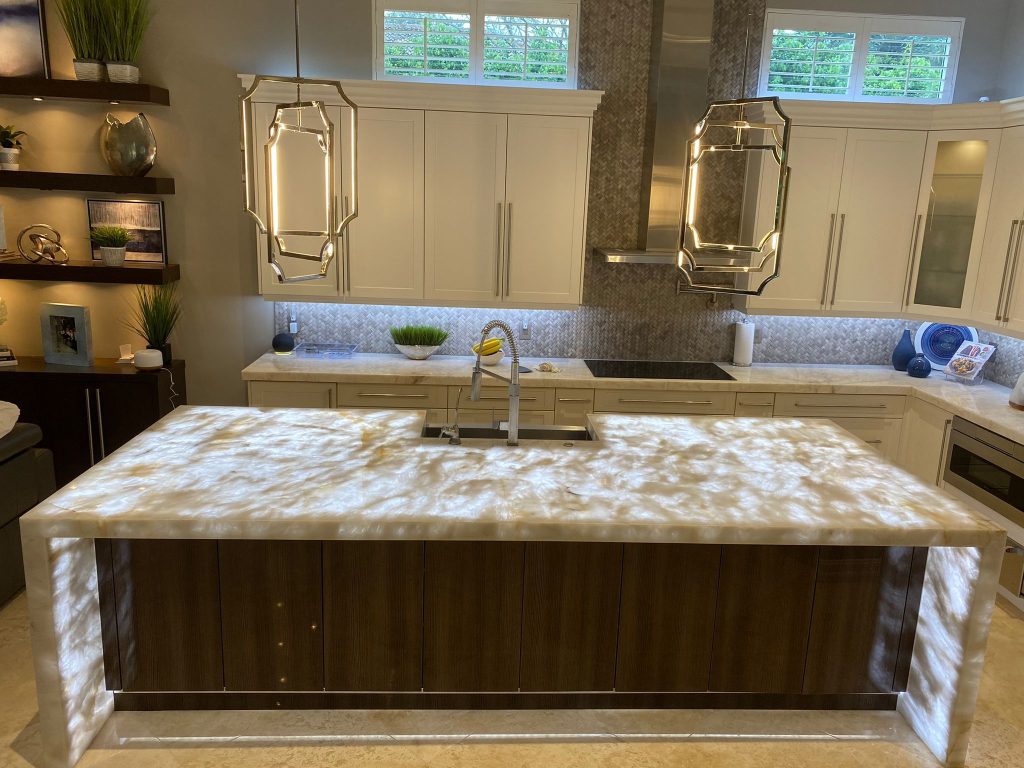 LED Light Panel product features:
Available in custom sizes and shapes
Slender depth of 1/4″
LED edge lighting diffused by an etched acrylic grid
High output or ultra-high output
3000K warm white, 4500K neutral white, or 6500K daylight color temperature options
24 Volts DC
Wall plug or hard wire power supply
Dimmable power supply optional
Energy-efficient LEDs rated for up to 70,000 hours
Three-year warranty against defects
UL listed for safety and code compliance
Made in the USA
Request a no-obligation quote for an LED Light Panel or any of our products, including custom designs, and receive a reply in one business day. Reseller pricing is available to qualified accounts and volume discounts apply to orders of four or more units.